Please take the time to look through our site. Even if you don't use our Vintage Wedding car Sydney service, please feel free to take advantage of my 26 years of wedding car hire experience to make your wedding day even more special.. There are lots of useful information to help you organise a perfect wedding day with some great photos of our old fashioned wedding cars, useful links and great locations. I am a true romantic at heart, so each and every wedding is so special to me, and if I can help in any way, I will be more than happy to answer any of your questions about wedding car hire.
You will find lots of useful links on my site, but if you want specific old wedding car hire, click on
We have a stunning Convertible with matching sedans for your very special wedding day.
Our old fashioned wedding cars have a unique colour scheme of silver over gloss black with the big white wall tyres which will stand out above the rest.
Please spend some time on our site to check out all our great pages about our different type of wedding car hire available in Sydney.
We have filled our pages with all the information you need about our Vintage wedding car hire Sydney.
With a tonne of beautiful photos of our wedding cars with our bride and grooms.
Above Photo by Inlighten Photography friends of Royalty Weddings.
Picture perfect in our stuning convertible Mk 5 Jaguar wedding cars.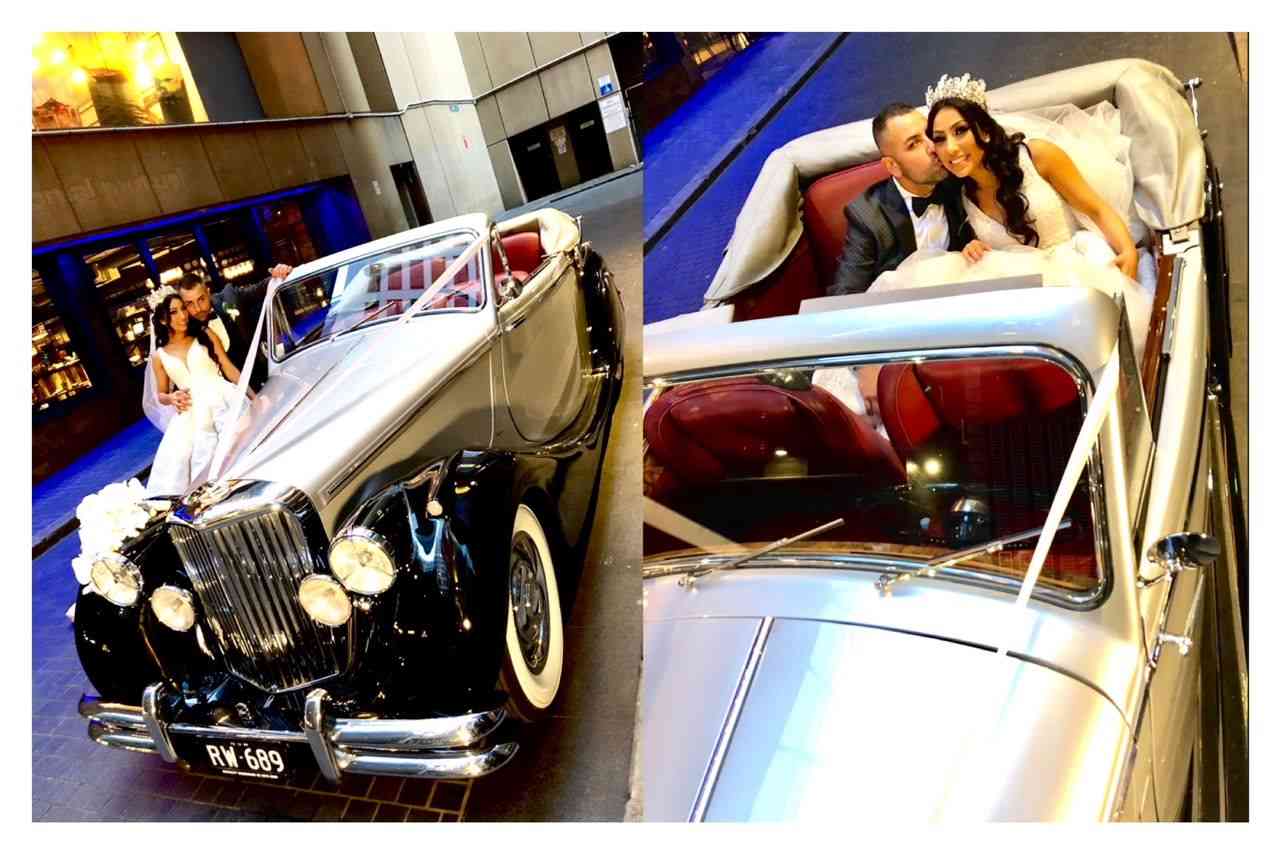 We prefer our Rolls Royce over the Bentley as they are more prestigious and are compared to luxury in the wedding industry.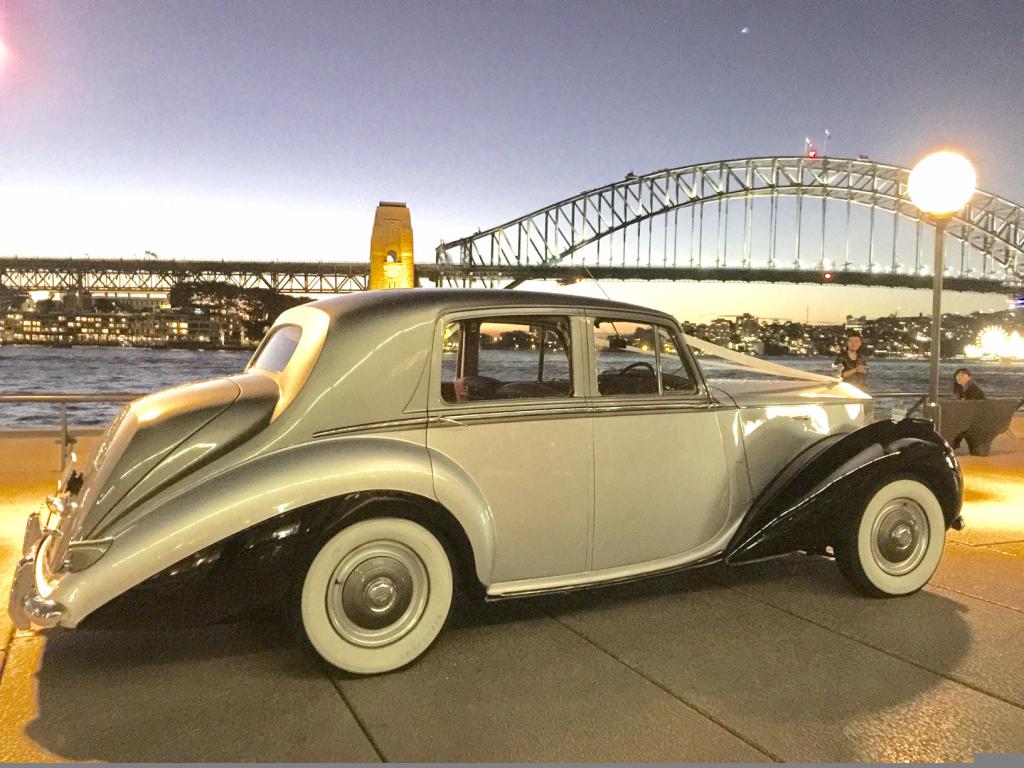 Another thought, if you're looking for a Bentley, be known, that they are the same as Rolls Royce. They came from the same factory, just badged differently.
Especially in the 1940's to 1960's Bentley and Rolls Royce are nearly identical except for a few badges.
Over 26 years full time experience in the wedding car hire industry in Sydney gives you that assertion you are in the right hand.
Offering you that perfect Vintage or Classic wedding car service. All our classic and Vintage wedding cars are restored to original specs except for the few modern updates like air-conditioning in some of our cars, cd player and a few extras that make the cars so much more reliable for a hassle free wedding day.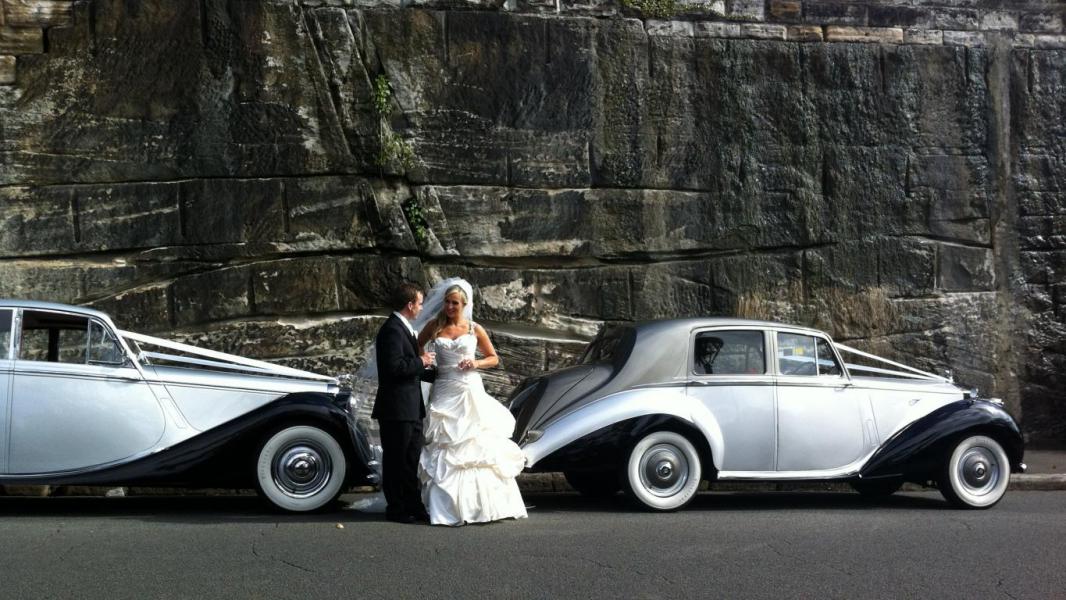 Make an appointment and come see our great range of Vintage and Classic bridal cars located in Eastwood Ryde area, close to Marsfield.
So if your getting married in Sydney and need a luxury wedding car hire company, dont hesitate to call Royalty Wedding Cars also known as Wedding Cars for Hire In Sydney.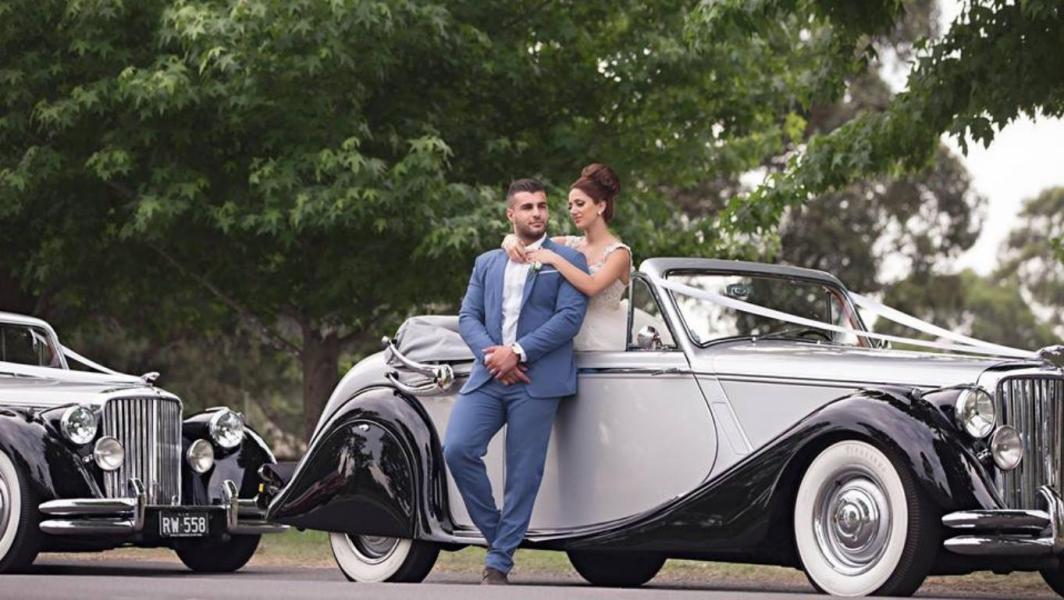 Classic wedding car hire Sydney.
I hope you will share my passion in my cars that I hire out and allow my experienced staff to treat you like Royalty. The way you should be treated on your wedding day.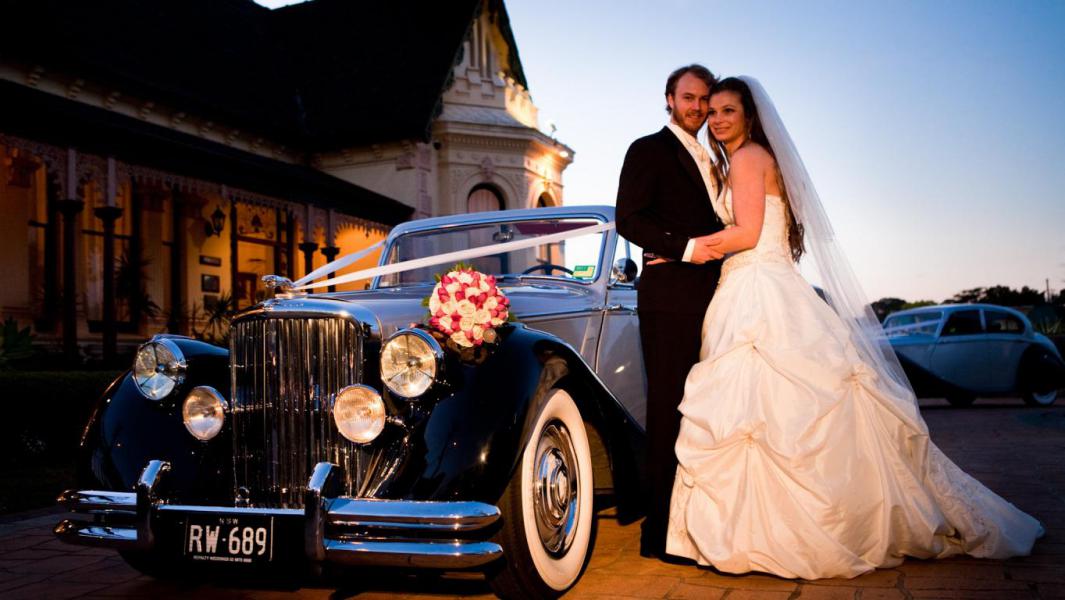 Beautifully presented with unparalleled service. Our wedding car hire Fleet in Sydney are perfectly detailed for your wedding day, with our experienced staff to make your transport an enjoyable experience.
From the time you book with us to the end of your wedding day, we wont disappoint you..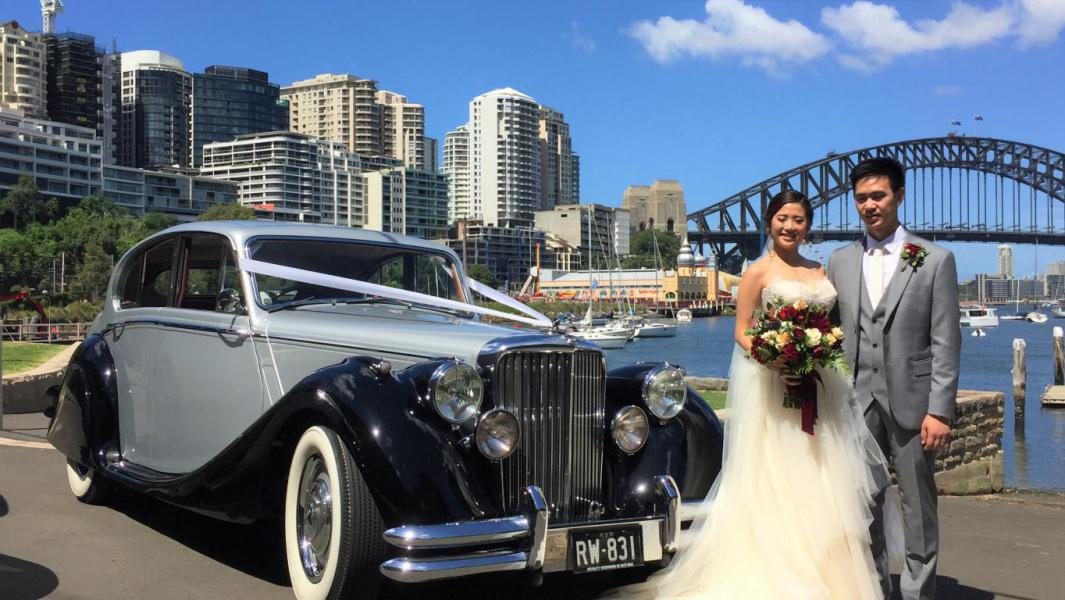 Offering timeless exquisite old wedding cars, adding wonderful memories to your Wedding day that will last a life time.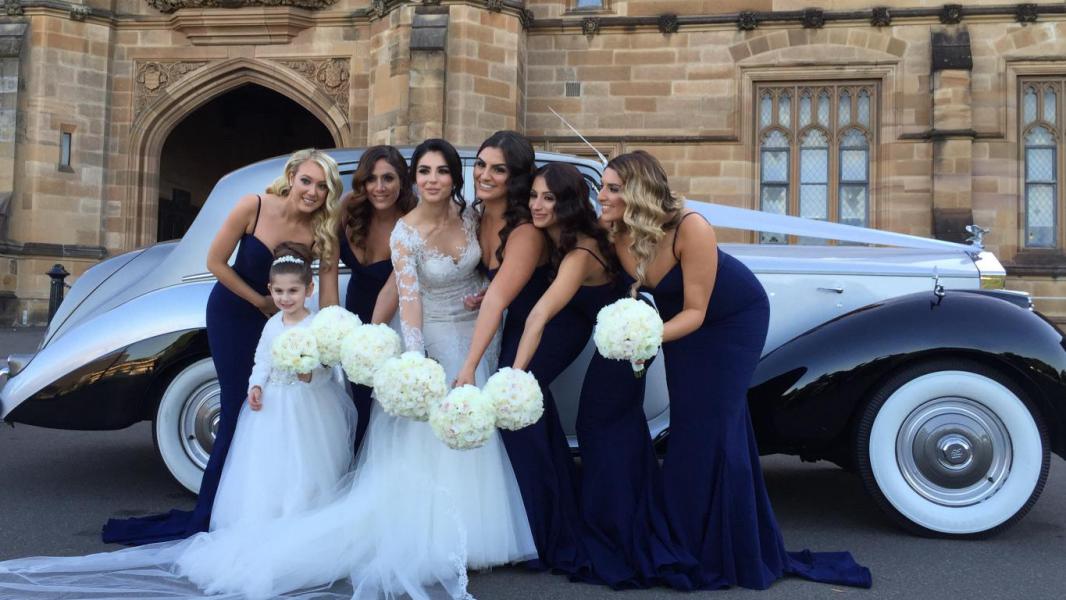 Select Wedding cars for hire in Sydney, check out the classic 1950 Jaguar Convertible and other veterans 1950s Rolls Royce Silver Dawn.
Wonderfully restored vintage wedding cars like the classic Mk5 Jaguar sparkling silver over highly polished jet black 1950s sedans. All ready for your wedding car hire in Sydney for your big day.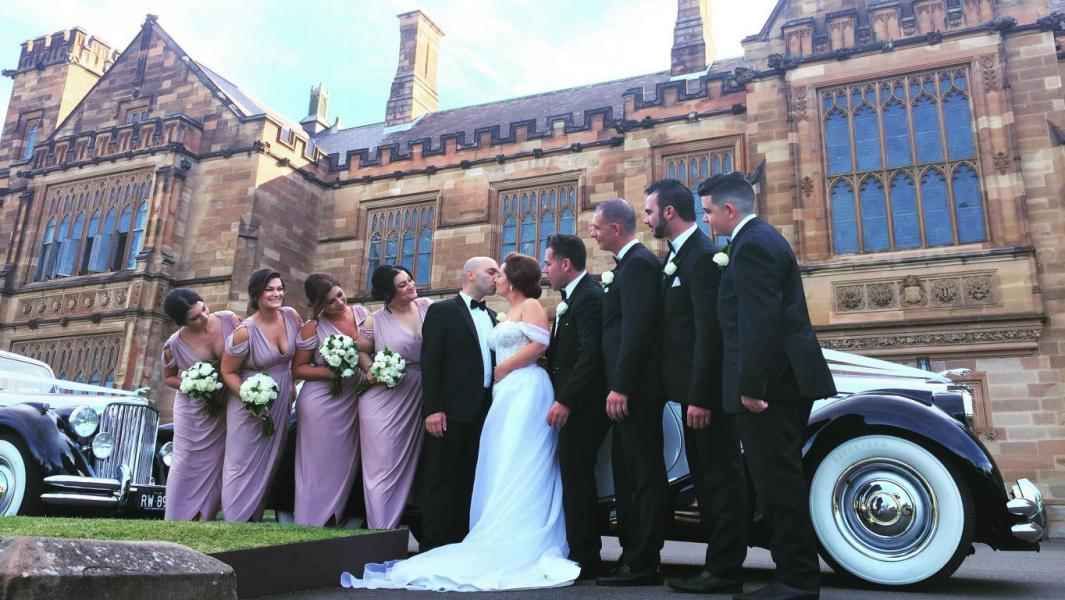 Wedding car hire
Royalty Weddings offer an outstanding collection of fully restored luxury wedding cars for hire in Sydney. Included are our Classic and luxurious Rolls Royce.
Stunning Mark 5 Jaguars and Classic Mk5 Convertibles. PICK YOUR WEDDING CAR PACKAGE HERE
The vehicles are uniquely coloured in Silver over Black. They and are dressed with the classic larger white wall tyres. This allowing them to stand out above all others.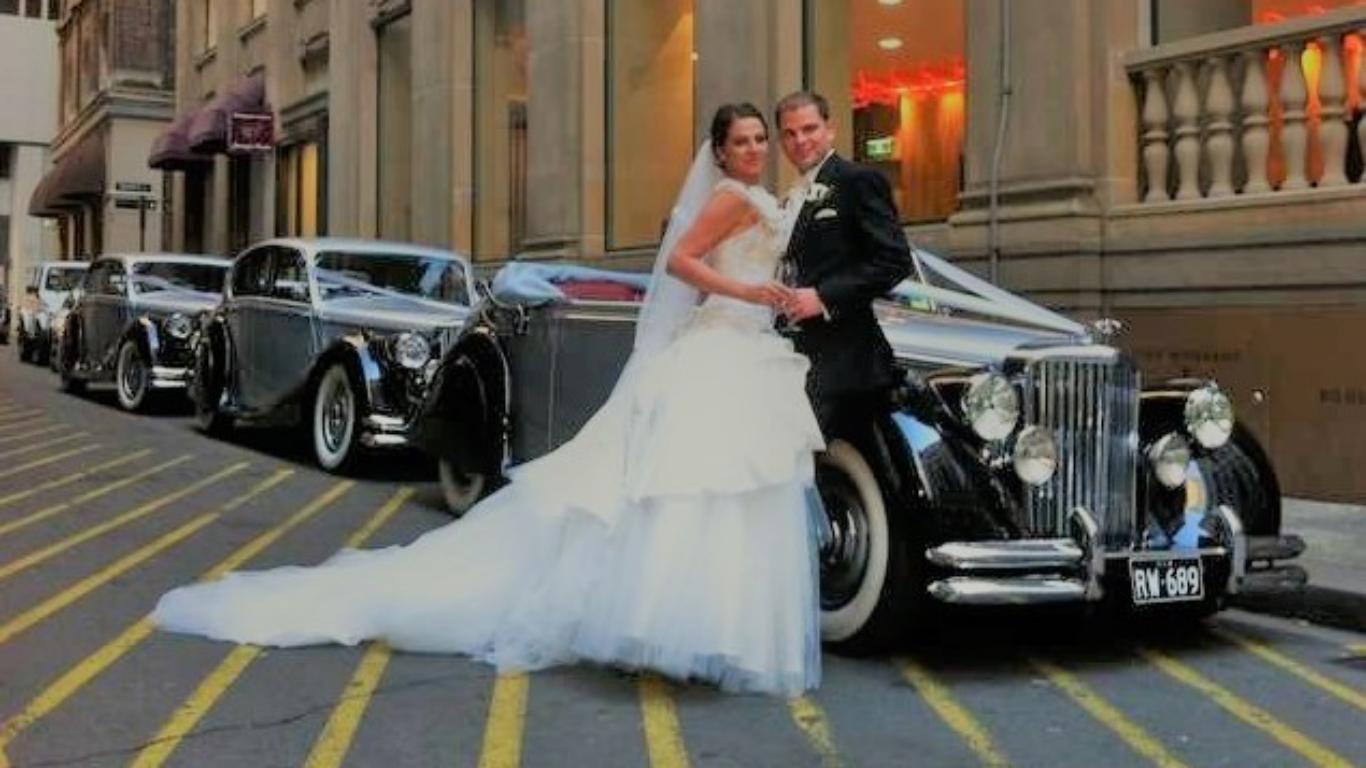 Our full time experience in the Sydney wedding Car industry literally transporting hundreds and hundreds of brides, grooms and wedding parties.
Our team at are professional at everything we do, from the minute you walk into our showroom and book your transport.
Until you arrive at your final destination on the wedding day, we strive for perfection.
Our chauffeur drivers are the best and very competent at their job.
Only the best will do, Royalty Weddings offer the highest quality of service and vehicles.
The finest details from the matching luscious red leather upholstery in all our cars to the outstanding timberwork.
You find only in the highly kept cars.
When shopping around for your wedding car hire in Sydney, have a look at the interiors, then come to our showroom and look at our cars, then you will understand.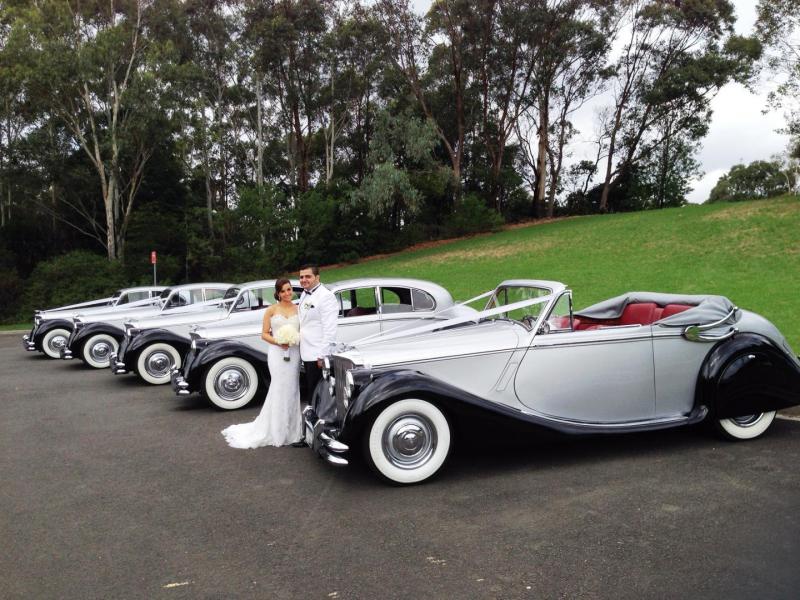 All of our cars have been fitted with a few modern updates like air-conditioning for that extra comfort in the hot summer months.
We have install CD players, allowing our brides and grooms to bring along the music of choice.
The vehicles are maintained to the highest quality and are well above the industry standards here is Sydney.
Offering our brides and grooms that perfect wedding car service. We specialise in the Vintage and Classic Wedding Cars from the 1940's and 50's.
You are assured, you will not find better quality cars to travel in on your wedding day.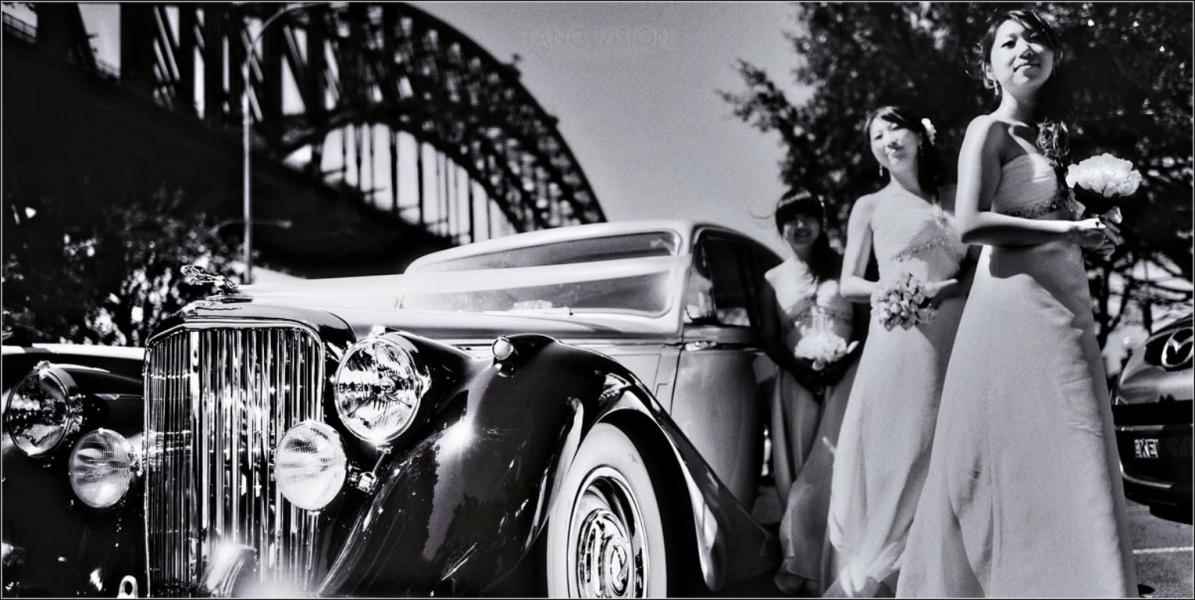 Visit our new Photo Gallery page for some great ideas.
While pricing can vary choosing cars for your wedding can be a very exciting experience. It is very good advice to inspect the cars in person.
Not all wedding cars are the same and not all operators offer the guarantees we offer here at Royalty.
There is an old saying "You pay for what you get" Well we think we can offer more at a better price.
On your visit to our showroom you can sit in the cars of your choice, picture yourself in your wedding gown seated in the cars.
You can touch and feel and see the quality of the vehicles being presented. You deserve the very best please come and inspect the best!
Your choice maybe a classic Convertible Mk5 Jaguar with matching black over silver Jaguar sedans.
Perhaps you may select the vastly popular stand out Rolls Royce Silver Dawn as your bridal car.
Past brides and grooms have all enjoyed the attention to detail we provided and we would like to do the same for you! READ OUR TESTIMONIALS.
We guarantee to help make you wedding car hire in Sydney something very special. Nothing is a problem.
Thank you for visiting our wedding cars Sydney website, take a little time and have a look around. Sydney's most boutique and experienced Wedding car hire company.
We guarantee that all your dreams desires will be fulfilled.
Let us help make wonderful memories that will last a lifetime.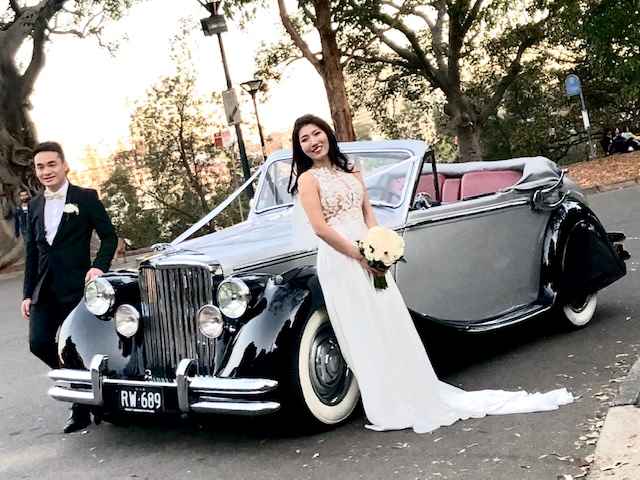 Royalty Weddings servicing Sydney Suburbs
Ryde
Gladesville
Drummoyne
Rozelle
Sydney
Merrylands
Denistone
Manly
Dundas
Woolich
Hunters Hill
Cherrybrook
Maquarie Park
Wahroonga
Roseville
All Sydney Areas
Western Suburbs
Darling Harbour
Homebush
Pymble
Chatswood
Northbridge
Balmain
Northern Beachs
Rydalmere
Forestville
Bankstown
Lidcombe
Pennant Hills
Killara
Narabeen
Brookvale
Dee Why
Eastern suburbs
Northern Suburbs
Terry Hills
Lilyfield
Marsfield
Leichardt
Five Dock
West Pennant Hills
Epping
Carlingford
Denistone
Beecroft
St Ives
Allambie Heights
Beacon Hill
Narraweena
Croydon
Inner West
Granville
South of Sydney
Get your quote quickly
Please have the information below ready when you call or email Wedding cars for hire in Sydney.
Wedding Date:
Bride pick up suburb:
Bride pick up time:
How many people at the Brides home requiring transport:
Groom pick up time (if required):
Groom pick up suburb (if required):
How many people to pick up:
Ceremony time:
Ceremony suburb:
Photo location (if you know):
Time for you to be at Reception:
Reception suburb:
So call (02) 9878-8888
or email